Yanbaru Forest: Protected by the people of Okinawa
The northern part of the Okinawa Main Island has been called "Yanbaru" since long ago. Yanbaru means "a region of mountains and forest." As the name says, a subtropical laurel forest sprawls over the three villages of Kunigami, Ogimi, and Higashi.
This Yanbaru Forest makes up less than 0.1% of Japan's entire land area. Nevertheless, it's home to all kinds of unique life, including endemic and endangered species such as the Okinawa rail, Okinawa spiny rat, and Ishikawa's frog.
A warm climate and abundance of rain nurtures this diversity of life. Approximately 2,000 mm. of rain falls on Okinawa every year due to factors such as the Kuroshio Current and typhoons. Even these typhoons that impact the lives of the islanders are an essential element in the rich natural environment.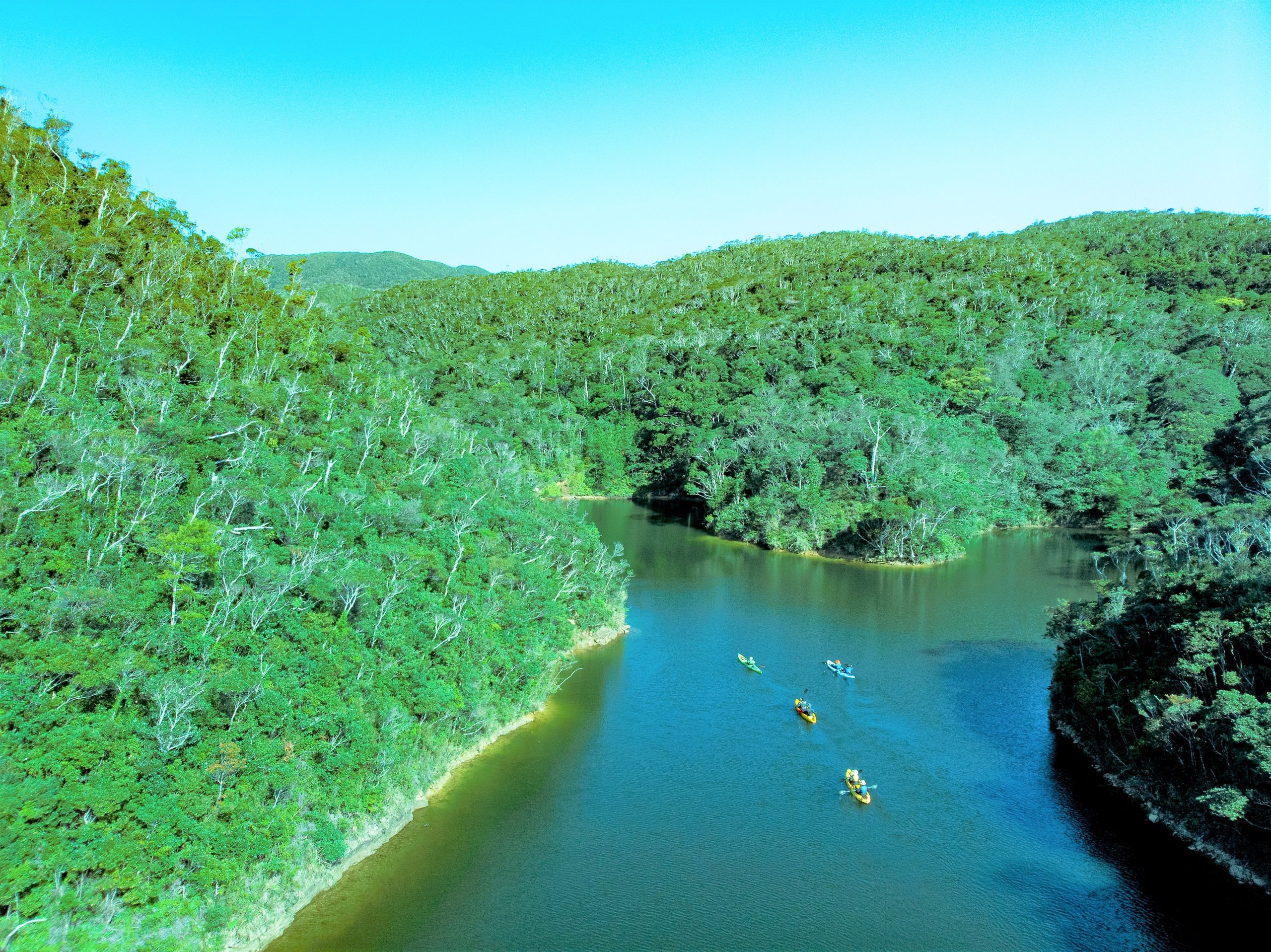 The Yanbaru Forest is covered in Itajii, a tree which produces acorns that become food for animals, and there are clear streams full of aquatic life that have been filtered by the forest. The island's plants and animals maintain a balanced ecosystem while impacting one another.
In recognition of this rich natural environment and biodiversity, in 2021 the area was registered as a World Natural Heritage Site along with the islands of Amami Oshima, Tokunoshima, and Iriomote. Incidentally, there are living things that can only be seen on each island. For instance, the Iriomote cat, which is considered the most endangered, only lives on Iriomote Island.
Each area is distinctively different, but Akihisa Oda from the Higashi Village Tourism Promotion Council says that what sets Yanbaru Forest apart is its proximity to the islanders.
Oda: Geographically speaking, people live very close to Yanbaru Forest. There are several places for prayer in the forest, and people who live nearby believe the forest itself is a sacred place.
On the other hand, people have long been cutting down the forest trees for building materials and to make coal. The trees have been a resource for living. Even now, there are still traces of old charcoal kilns in the forest.
Though Yanbaru Forest is a secondary forest touched by humans, it's precisely because Okinawans have protected it that it's been passed down as a lush forest. In the era of the Ryukyu Kingdom, which lasted for 450 years from 1429, it's said Yanbaru Forest was controlled by the government and people couldn't cut down trees without permission.
Shuri-jo Castle from the Ryukyu Kingdom was also apparently constructed from lumber cut from Yanbaru Forest. The people involved in forestry back then are portrayed in the Okinawan folk song, "Kunjan Sabakui." The song and accompanying dance have been passed on to present day.
In addition, because people's lives and nature are so closely entwined, it's vital that tourists and residents alike have a deep understanding of the natural environment.
Oda: The Yanbaru area has been troubled by damage inflicted from theft by people pretending to be tourists who remove endemic and endangered species. Of course, they shouldn't be smuggled off the island, but to prevent damage it's also important that when people find rare plants and animals, they don't thoughtlessly share the location on social media.
Head towards a secluded area that can only be reached by canoe
The "Tour of Secluded Yanbaru Forest," organized by the Higashi Village Tourism Promotion Council, is an activity that lets you fully experience the nature of Yanbaru.
Oda: In this tour, you head for Yanbaru Forest in the World Natural Heritage area by canoe. You can choose between a trekking course and a walking course along a stream. In summer, I recommend the walking course where you can enjoy shower climbing (climbing up a waterfall) in a cool mountain stream.
The course takes about 3 hours. Up to six people can join the tour, which is accompanied by a guide who has taken a safety training program.
The group meets at 9:30 in the morning and takes off in a canoe at the starting point, Fukuji Dam. The World Natural Heritage area of the forest, which is far into the reservoir, can only be reached by water, and only tours are allowed in.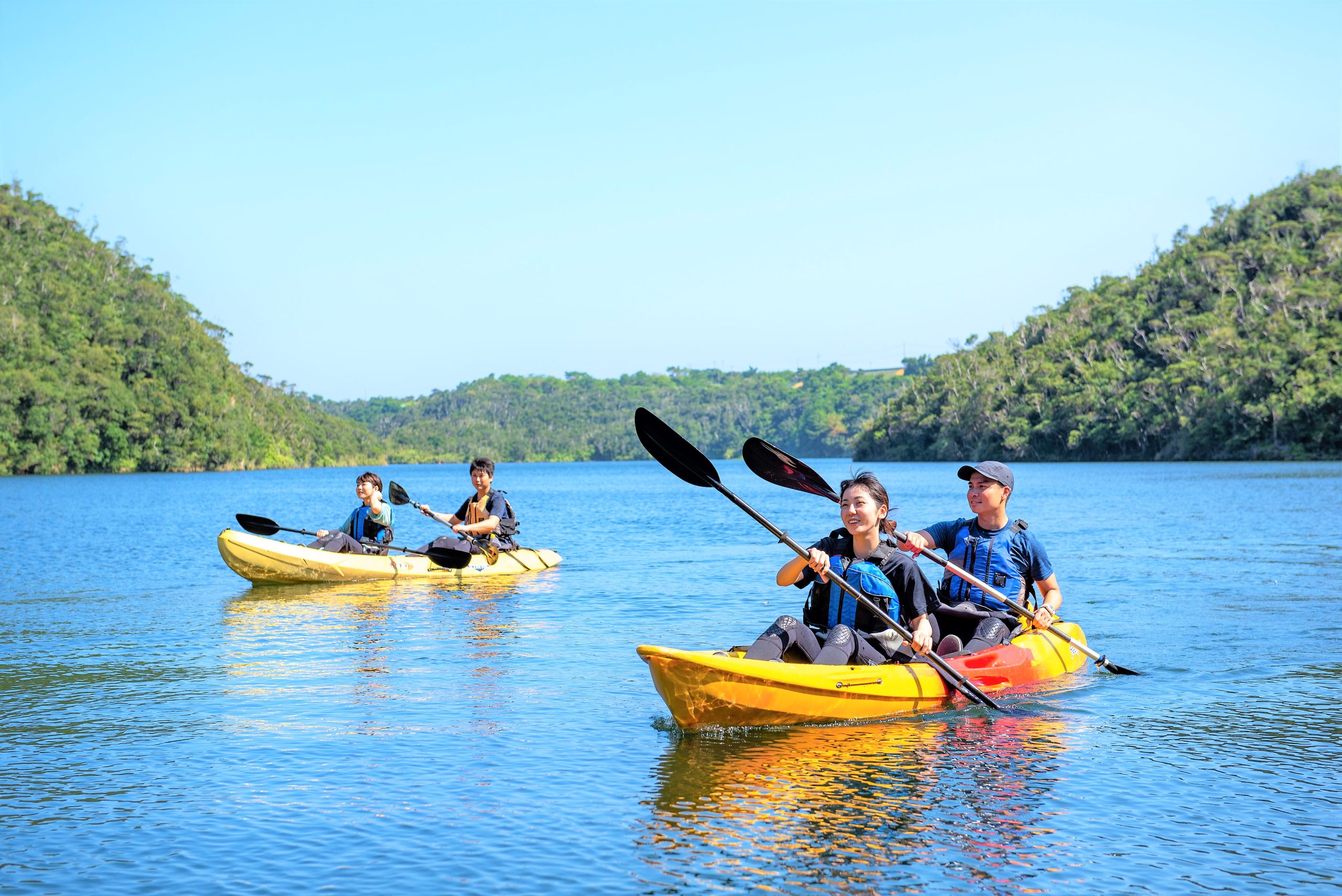 The tour starts with a lecture on how to paddle the canoe, so even first-timers feel at ease. The refreshing feeling of gliding on the water with the wind in your face in hot-and-humid Okinawa is delightful.
After paddling for about 20 minutes, you're greeted by a chorus of cicadas as you reach the forest thick with trees standing as much as 10 m. high, including Itajii and the brush pot tree (Cyathea lepifera). There is a stretch of giant rocks and sharp cliffs that looks just like the entrance to a jungle.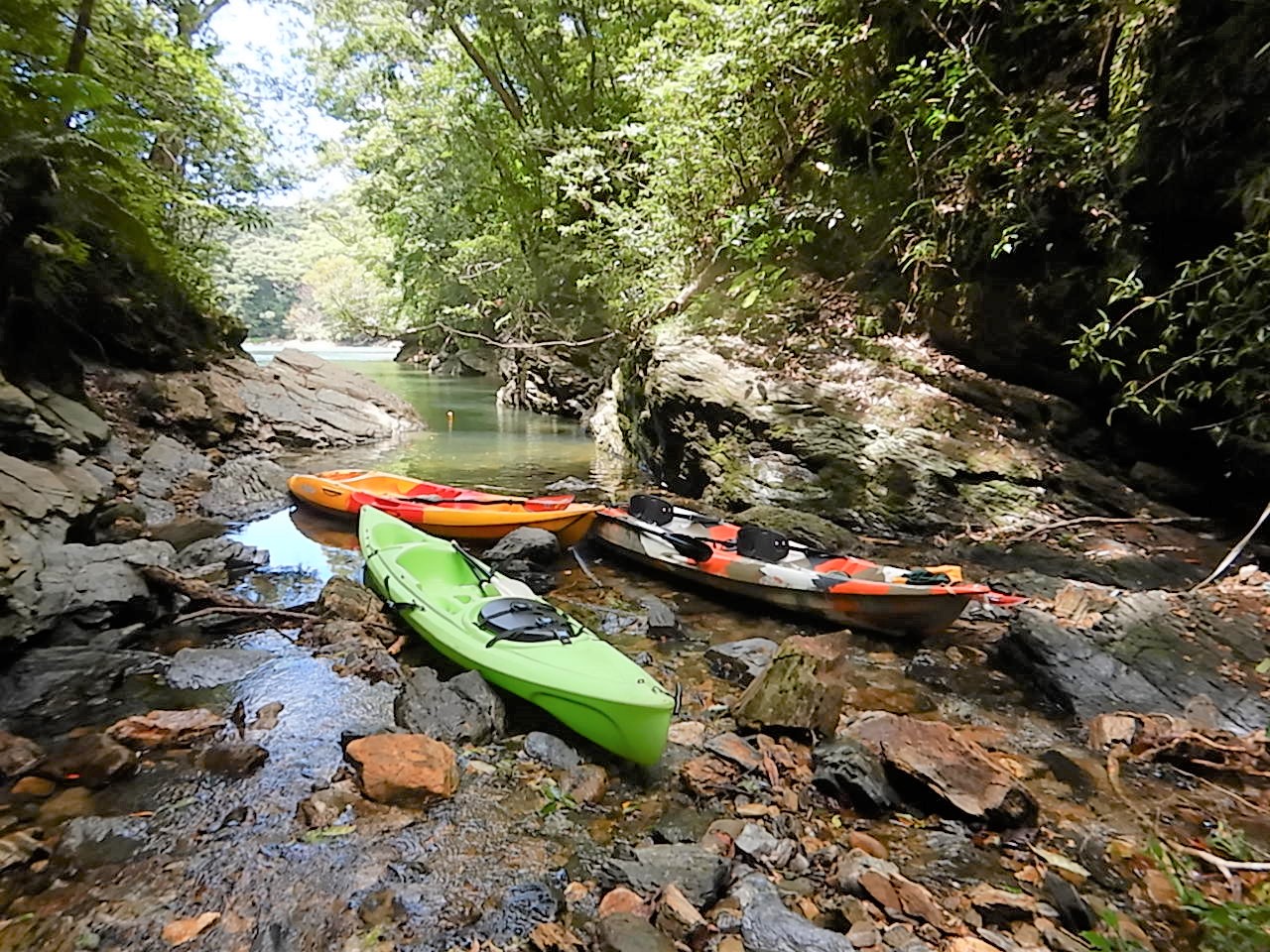 Oda: There are lots of rocky and steep places in the forest, so for safety reasons to participate you have to be between the ages of 10 to 65. We venture into untouched nature without a path, and wade into water and climb rocks, so be sure to join only if you're sure you can physically handle it.
As you proceed into the forest up stream, you also encounter summer flowers that color the forest, including urn orchids and wax plants that wrap their tendrils around the tree trunks. Though urn orchids are also sold for gardens, the wild ones have been designated endangered species.
Oda: The Okinawa Main Island doesn't have any tall mountains, so rugged land like in Yanbaru is rare. The forest is filled with waterfalls and streams, and near the water there are creatures such as the Sword-tail newt and Ryukyu-ayu fish that can only be found on Okinawa and Amami.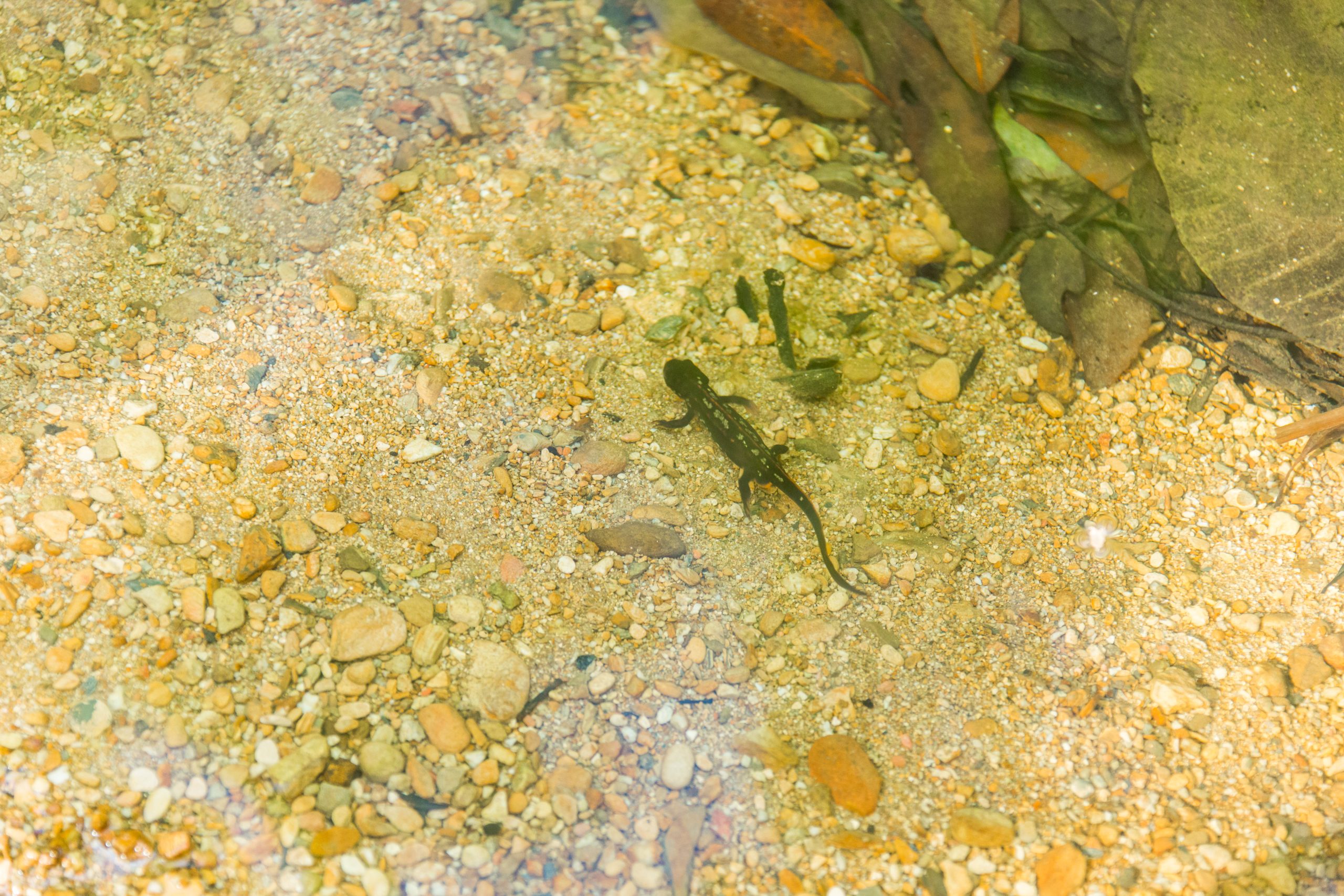 There are also historical reasons for the richness of the forest. Approximately 40% of the World Natural Heritage Site is returned land that was under the control of the American army for many years following WWII. The expanse where the tour is conducted is right on the boundary between that returned land and the forest owned by the village of Higashi.
The returned land was used by the American army as training grounds, and ordinary people were prohibited from entering until it was given back to Japan in 2016. This resulted in it being handed down virtually untouched.
Slip down a natural water slide and commune with Mother Nature
Although you cautiously walk along the stream at first, once you become accustomed to it, getting into the water becomes fun. Each time you cross a stream that is chest deep and climb over a fallen tree, you realize the joy of interacting with nature first hand.
The crystal clear stream is especially fun for tour participants. The experience of sliding down a giant rock at the mercy of the current is exactly like slipping down a natural water slide.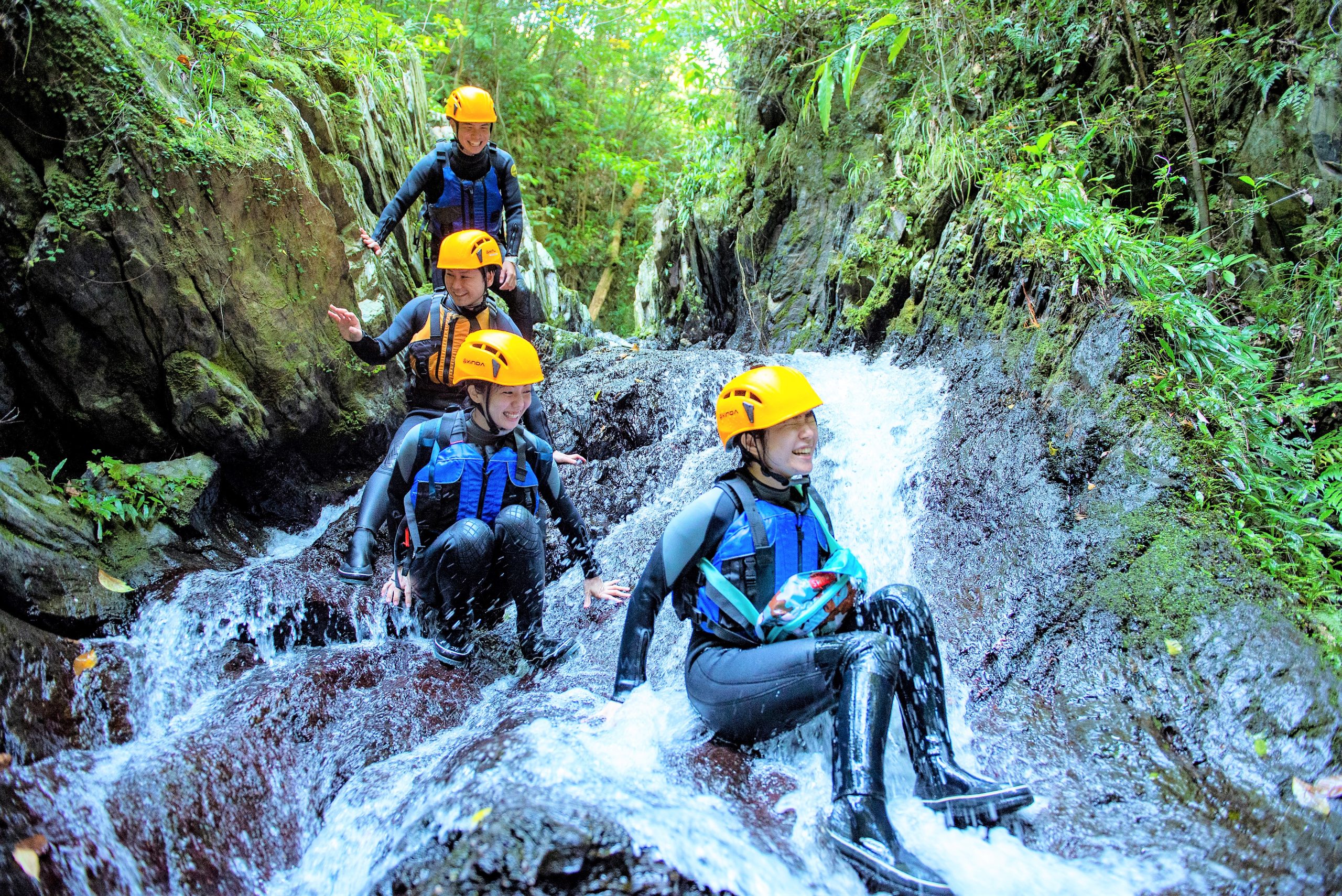 The highlight of the tour is diving into a waterfall basin. You jump into the waterfall basin from a waterfall that is 5 m. at its highest. Whether to take the plunge is up to each participant. It's a thrill just watching the tour group members brave enough to jump.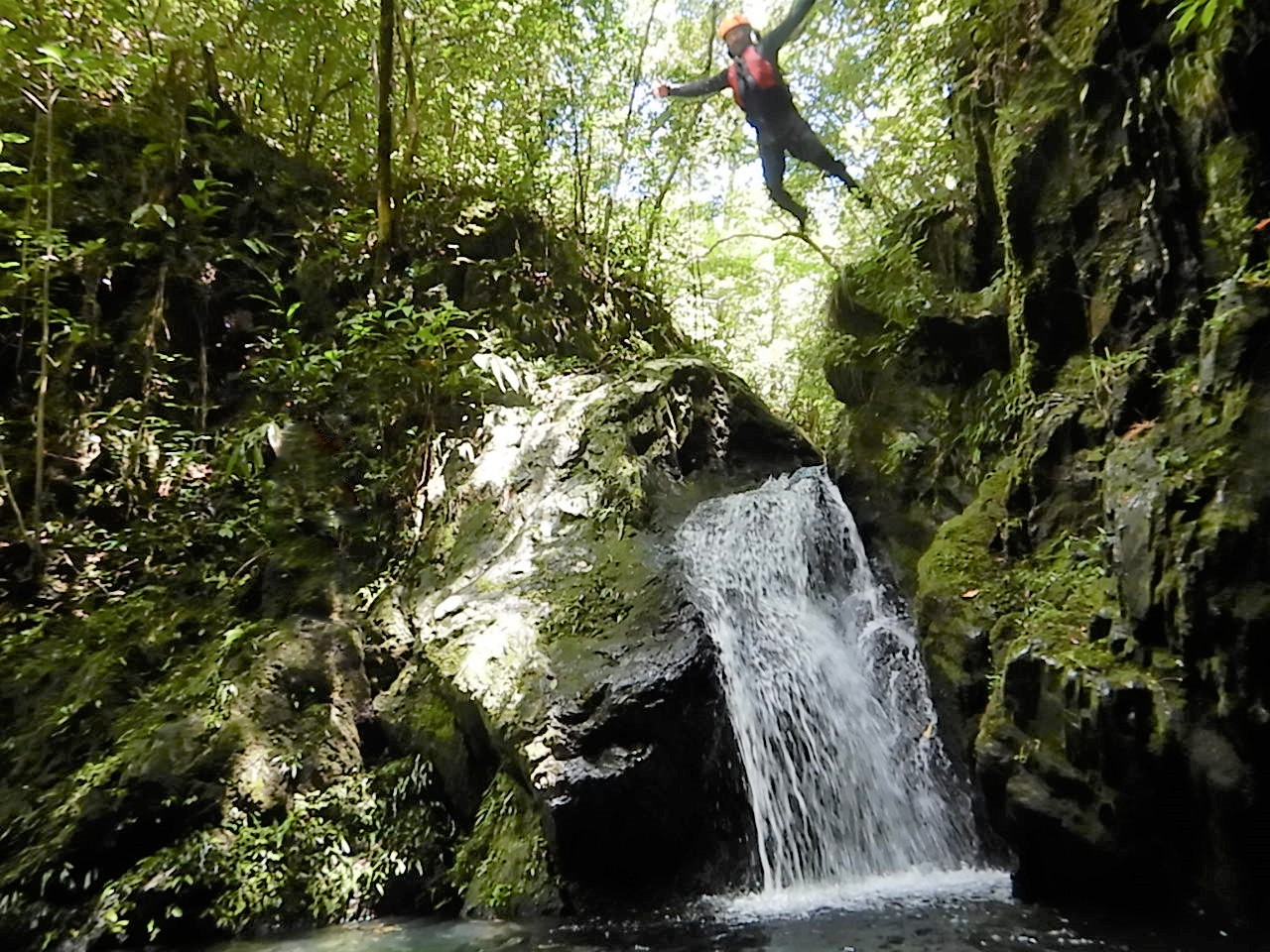 Oda: Once you've had lots of fun playing in the water, next you should stop and listen. You can hear the call of wild birds coming from all directions. Listen and you might hear the distinctive, high-pitched call of the Okinawa rail, which is endemic to Yanbaru and known for being flightless, and the drumming of the Okinawa woodpecker, an endemic species of the family Picidae, as it pecks away at trees.
Look carefully at the ground and at tree trunks and you might also see the rare Ryukyu black-breasted leaf turtle, an endangered species.
As Yanbaru Forest does not have large animals such as bear and deer, it seems to be a paradise for small creatures that live side by side, including wild birds, insects, and reptiles.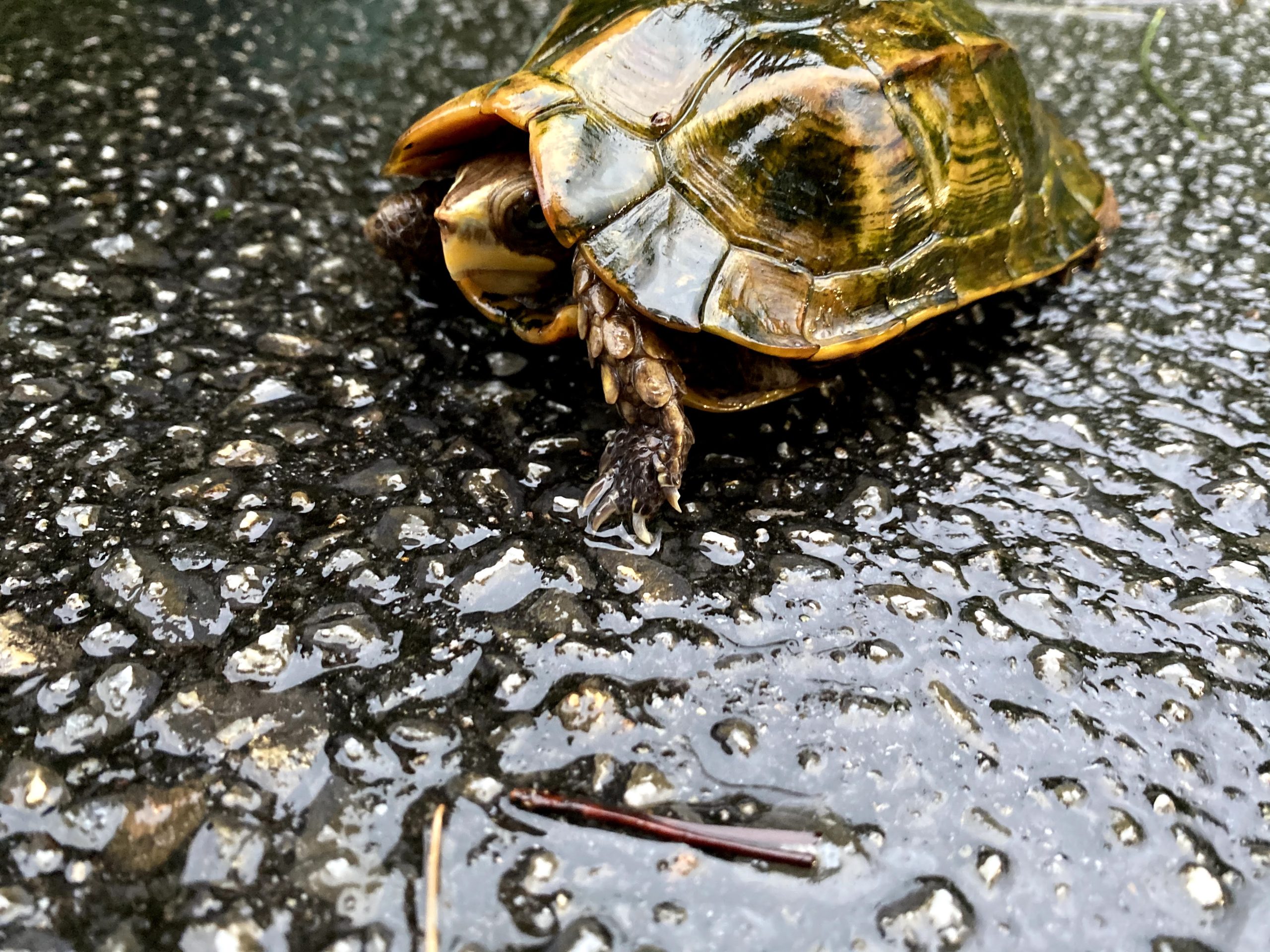 Tokunoshima Island, which like Yanbaru has also been recognized as a World Natural Heritage Site, is another gold mine of diverse plants and animals. You may encounter rare nocturnal animals as you walk at night through the forest, a special protection zone. They include the Ryukyu long-tailed giant rat that is at threat of extinction and the Amami rabbit, an endemic species, which only live on the islands of Tokunoshima and Amami Oshima.
Tokunoshima Island can be reached from the northern part of the Okinawa Main Island by ferry, so why not combine the experience with the "Tour of Secluded Yanbaru Forest"?