About
World Natural Heritage Sites in Japan
Incredible views beyond imagining, an environment with a miraculous balance, plants and animals robustly living in that environment. The nature in each "World Natural Heritage" site is unique to and nurtured in that site and cannot be replaced or changed.
There are various World Natural Heritage sites across the globe, such as Yellowstone National Park, and the Great Barrier Reef, but in Japan, an island country surrounded by the sea, a country where approx. 70% of the land is occupied by forests, there are also five World Natural Heritage sites: Shiretoko, Shirakami Sanchi, the Ogasawara Islands, Yakushima, and the area consisting of Amami-Oshima Island, Tokunoshima Island, Northern part of Okinawa Island, and Iriomote Island.
These Natural Heritage sites are humanity's irreplaceable property and should be protected for the next generation, so rules and manners are in place, but these rules and manners are not to keep people away from Natural Heritage sites. Because these are irreplaceable sites, it is important for people to visit, touch, feel, and communicate something to the next generation.
A trip to Japan's World Natural Heritage sites is to experience nature beyond imagining, to trigger an update of your awareness of nature and your behavior. Choosing a trip to a Natural Heritage site leads to protecting the destination and the planet's future. Why not take the first step towards adventure at a World Natural Heritage site?
What are World Natural Heritage Sites?
The "World Heritage Convention," adopted in 1972 by the UNESCO General Assembly, resulted in the "World Heritage" registration, values that should be shared not only with the present population, but also with the next generation.
It is necessary for a site to have a "notable universal value," which is judged by whether the following three conditions are met, in order to be recognized as a World Natural Heritage site, as an important area with a unique and exclusive value in the world.
*The following is quoted from the "Japan World Natural Heritage Site" by the Ministry of the Environment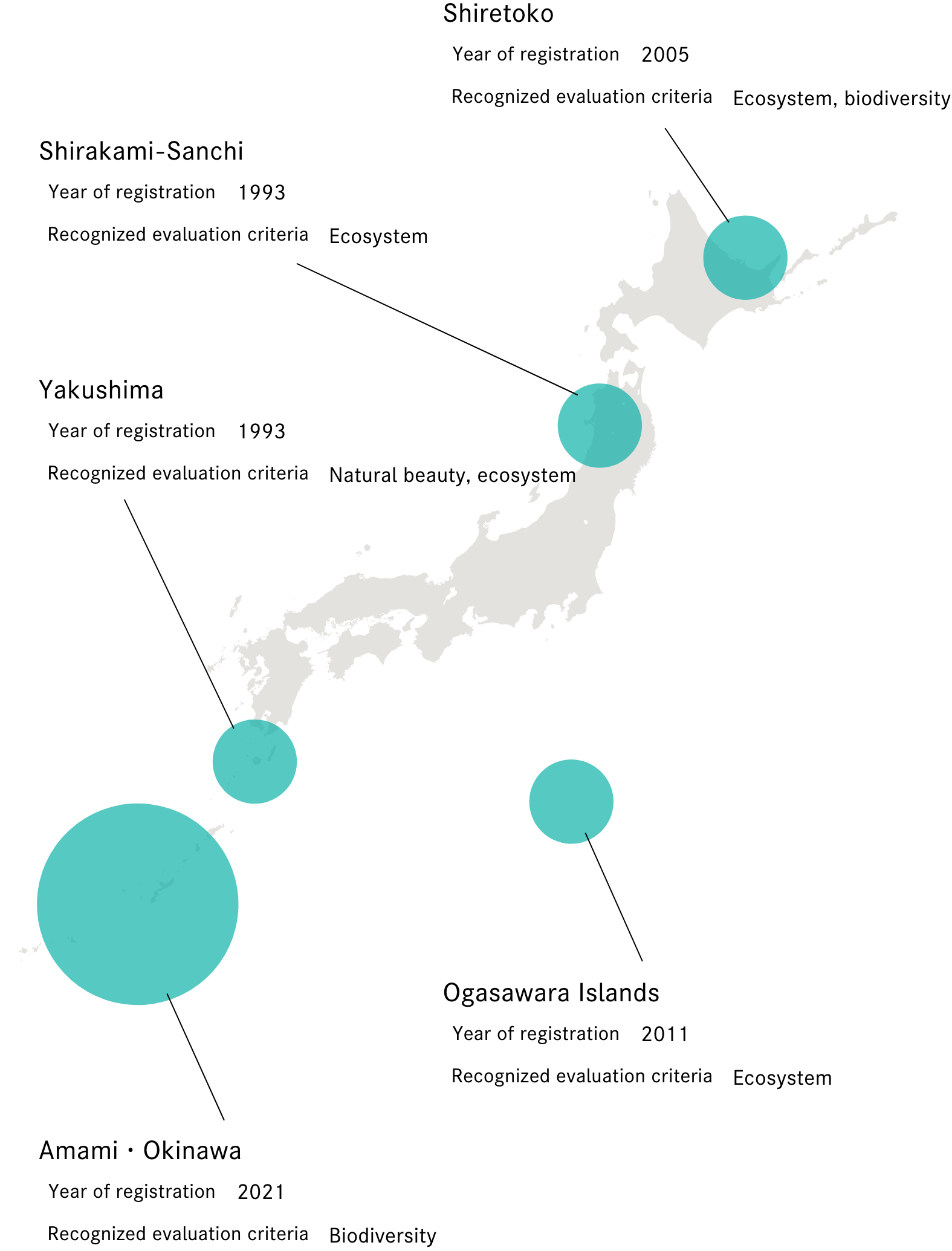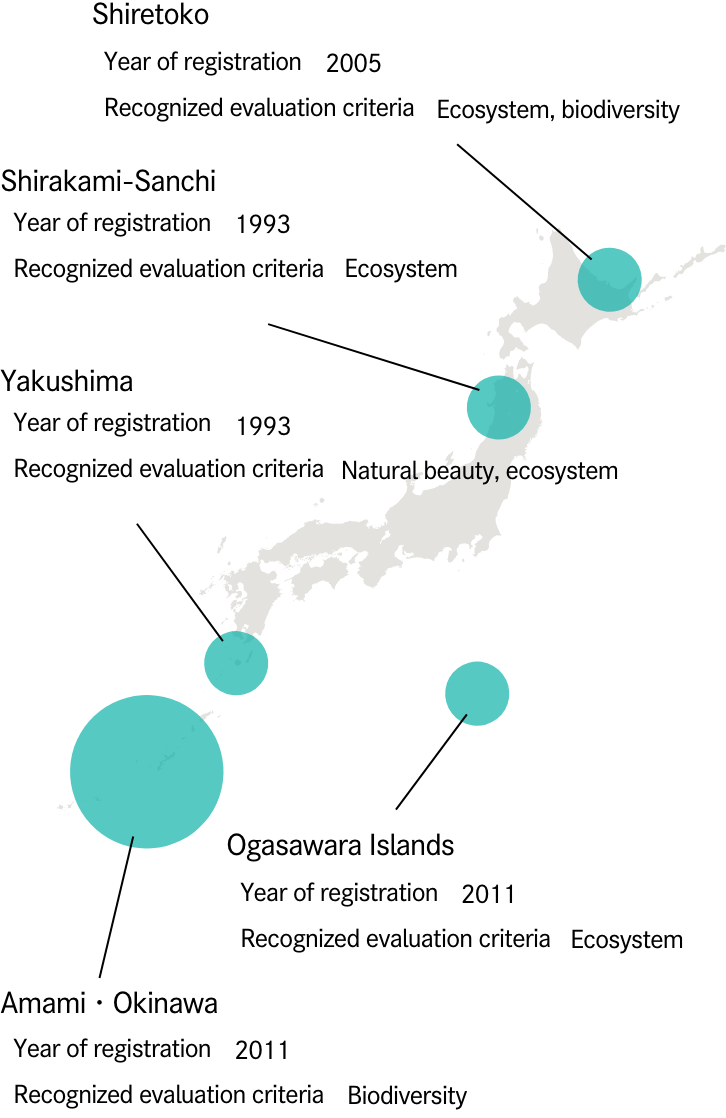 Registration conditions
1. The property must meet one or more of the four criteria.
Criteria for World Heritage
There are two overarching World Heritage categories: "Cultural Heritage" and "Natural Heritage" sites. To be registered as a Natural Heritage, a site must meet at least one of four selection criteria: "Natural Beauty," "Geology and Geomorphology," "Ecosystem," and "Biodiversity."
(vii) Natural Beauty
Contain superlative natural phenomena or areas of exceptional natural beauty and aesthetic importance.
(viii) Geology and Geomorphology
Be outstanding examples representing major stages of earth's history, including the record of life, significant on-going geological processes in the development of landforms, or significant geomorphic or physiographic features.
(ix) Ecosystem
Be outstanding examples representing significant on-going ecological and biological processes in the evolution and development of terrestrial, fresh water, coastal and marine ecosystems and communities of plants and animals.
(x) Biodiversity
Contain the most important and significant natural habitats for in-situ conservation of biological diversity, including those containing threatened species of Outstanding Universal Value from the point of view of science or conservation.
Note: Items (i)-(vi) are selection criteria for Cultural Heritage sites.
2. The property must fulfill the condition of integrity (e.g. include all the elements necessary to demonstrate outstanding universal value; contain adequate areas; show little influence of development; and maintain its primary natural value).
3. The property must be adequately protected and managed in order to maintain its outstanding universal value over the long term.
Manners at World Natural Heritage Sites
When visiting a World Natural Heritage site, please enjoy the rich natural beauty while taking care to minimize your impact on its precious environment so that it may be passed on to future generations. The following rules and etiquette will help you achieve this purpose.
1. Do not approach or feed wildlife
Wild animals that remember the taste of human food can not only change their living places/living style and disrupt ecosystems, but can also cause crop damage in remote areas.
2. Stay on the promenades and mountain trails
Vegetation, once trampled, does not recover easily. We ask that you move, photograph, etc. only on established roads and trails so as to protect the moss, plants, and animals that create landscapes and ecosystems, and also to prevent destruction.
Some areas on mountain trails may be muddy, so equipment such as boots and outerwear are recommended.
3. Do not collect animals and plants
Natural Heritage sites are home to many unique flora and fauna, and each one carries the rich ecosystem of a Natural Heritage site and creates a beautiful landscape. The capture, collection, and damage of plants and animals is strictly prohibited.
4. Do not pollute the water of the mountains, rivers and ocean
Washing dishes or using water, other than in toilet areas, will contaminate the water of the mountains, rivers and ocean in the Natural Heritage site. When entering the Natural Heritage site, bring a portable toilet, wipe out dirty dishes with paper, and take all trash with you.
5. Take trash with you
From the beginning, reduce your amount of garbage as much as possible. Don't forget trash bags, and be sure to take out all of the trash that you generated while within the Natural Heritage site.
6. Don't introduce foreign species
Please take special care not to bring in any foreign species as it may affect the ecosystem of the Natural Heritage site.
In particular, the Ogasawara Islands, which boast an extremely high endemic species rate, are an ecosystem that is susceptible to external influences. Make sure that there is no dirt on your shoes that your clothes and bags are free of seeds and insects.