Shirakami-Sanchi
One of the largest pristine beech forests in East Asia
Shirakami-Sanchi sprawls from southwestern Aomori Prefecture to northwestern Akita Prefecture. Beech forest has existed in this area for about 8,000 years, and even today, pristine beech woods, virtually untouched by human hands, stretch across the region. Inside what are some of the largest tracts of virgin beech forest in the world, a diverse ecosystem has been preserved, and in addition to beech trees there live a variety of plants and animals. The geography of Shirakami-Sanchi is made up of sharp rises in the land that deliver dynamic natural scenery, including deep valleys and waterfalls as well as rock ledges and columnar jointing nearby. The movements of the land and the workings of plants and animals have had a synergistic effect on each other, cultivating a rich natural environment.
Through a Day
Morning in the beech forest is a magical affair, enwrapped in birdsong and shrouded in mists. The Juniko Lakes, bathed in sunlight, sparkle with a dazzling azure. Finally leaving the forest and reaching the coast, a crimson sun sinks into the sea beyond vast stretches of rocky ledges. Across Shirakami-Sanchi and the surrounding area, I found stunning scenery morning, noon, and evening.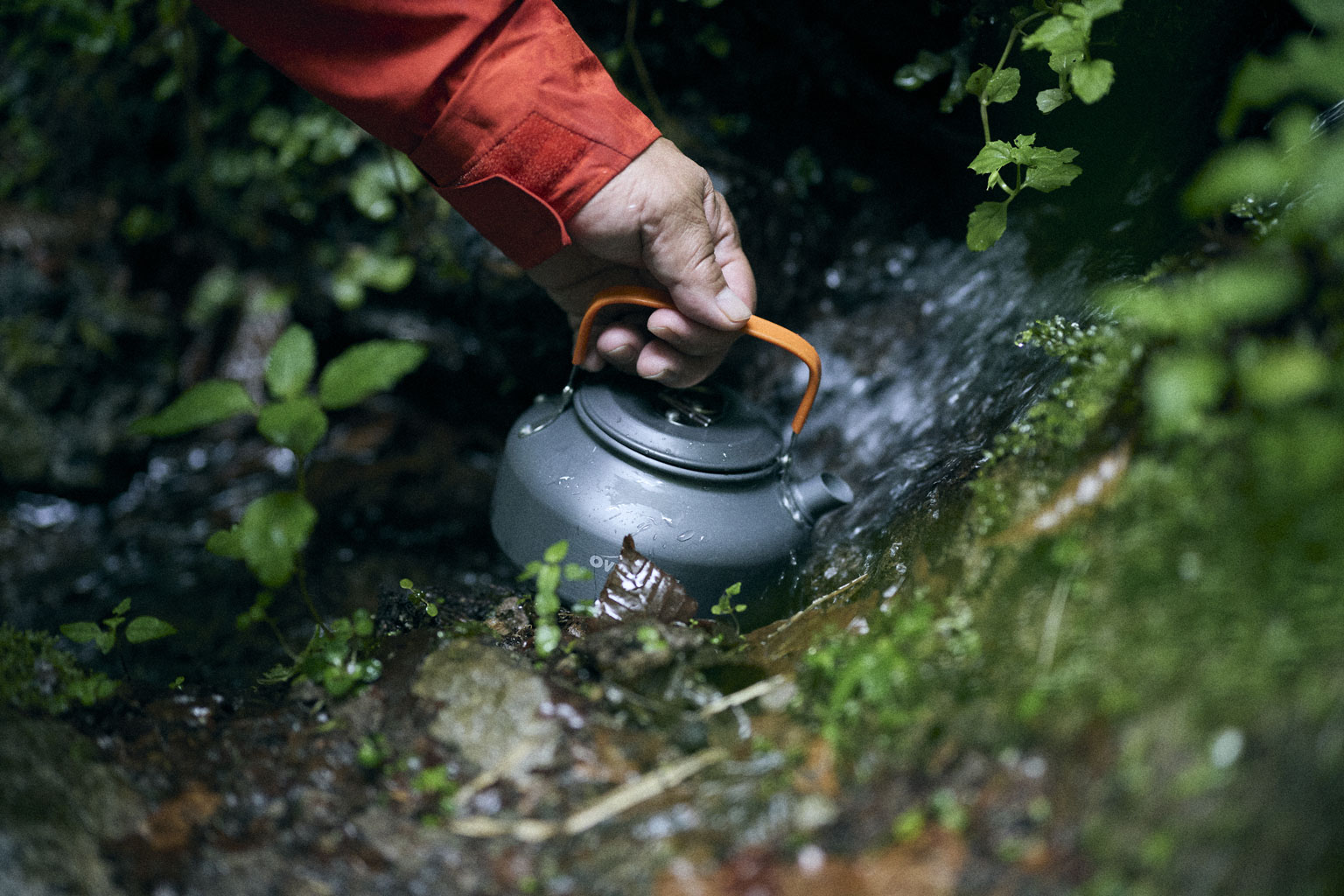 Dakedaibuna Natural Forest
As the mist-shrouded forest slowly brightens, flowers, dripping with morning dew, glisten in the light. The beech forest is silent in the morning, reminiscent of someplace sacred. Proceeding between huge beech trees with thick roots entwined around moss-covered boulders, I found a small spring. The coffee with its soft waters had a mild, mellow flavor. The perfect cup for a gentle wake-up.
Information
Location

Fujisato Town, Yamamoto District, Akita Prefecture

Access

80 min by car from Odate-Noshiro Airport; 40 min by car from Shirakami-Sanchi World Heritage Conservation Center (Fujisatokan) in Fujisato Town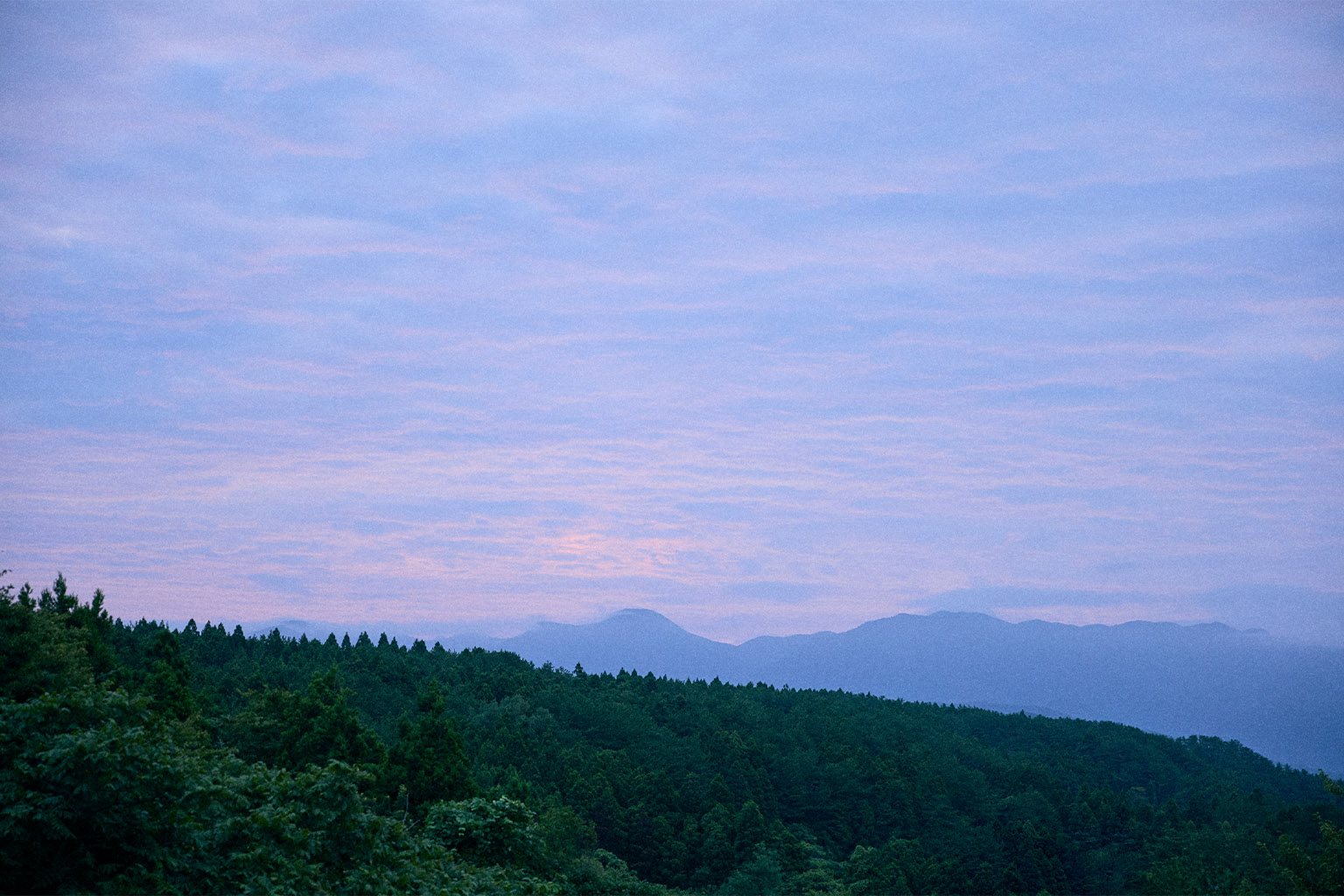 Mt. Shirakami
After walking a trail along the coast for a while, I turned back a moment to see the mountains of Shirakami veiled in morning mist. Their quiet yet commanding presence made me stop in my tracks. Steep mountains sprawl across Shirakami-Sanchi, but Mt. Shirakami, the tallest peak, towers with a particular majesty, exuding a solemn air as if watching over all the creatures that live there.
Information
Location

Kurosaki, Fukaura Town, Nishitsugaru District, Aomori Prefecture

Access

1-hr walk from Shirakamidaketozanguchi Station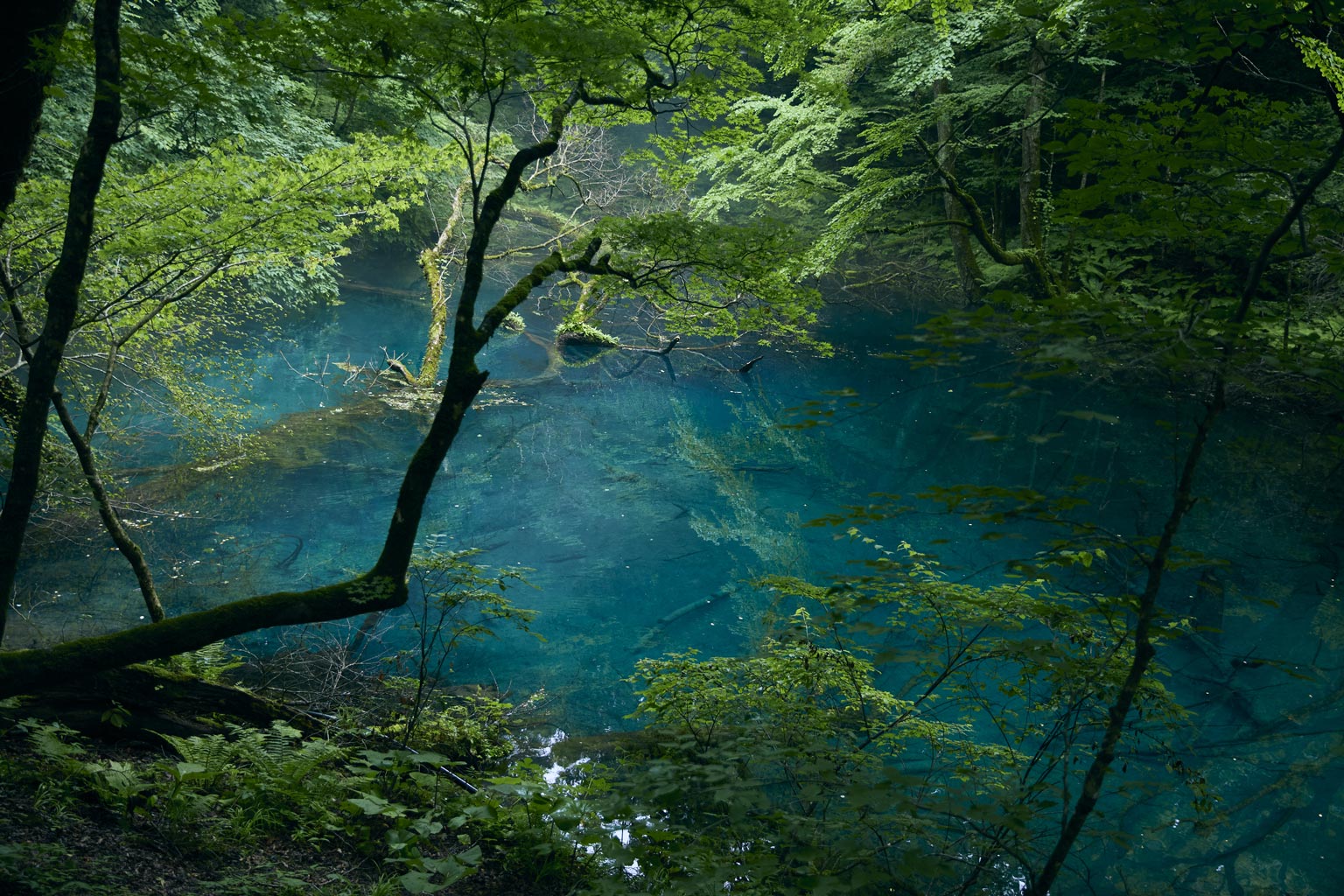 Juniko Lakes
Around 9 o'clock in the morning, sunlight, filtering its way between thickly growing trees and leaves, gradually begins to grow stronger. Lakes, bathed in this light, are dyed a startlingly beautiful azure. Hidden by beech trees, the Juniko Lakes are fed by the springs welling up from beneath Shirakami-Sanchi, resulting in waters that are extremely clear. This is why they sparkle and turn diverse shades of blue when hit by sunlight.
Information
Location

Matsukami Shimohamamatsu, Fukaura Town, Nishitsugaru District, Aomori Prefecture

Access

2 hr 45 min by car from the Owani-Hirosaki IC on the Tohoku Expressway; 15 min by bus from Juniko Station on the JR Gono Line to the "Oku Juniko Parking" stop
Resort Shirakami・JR Gono Line / Cape Yukiai
Impressive reddish brown rock formations poke out of the blue Sea of Japan along the shore of Cape Yukiai. Standing stunned by this magnificent scenery, I heard a distinctive clank-clank in the distance, then suddenly the JR Gono Line dashed gallantly by in front of me. Amazed by this perfect moment, I imagined what it must be like to be one of the passengers watching such a spectacular landscape pass by, and a smile cracked my lips. I understand several Resort Shirakami trains also pass down these tracks each day.
Information
Location

Hiroto Ienoue, Fukaura Town, Nishitsugaru District, Aomori Prefecture

Access

※ 5 min by car from Fukaura Station on the JR Gono Line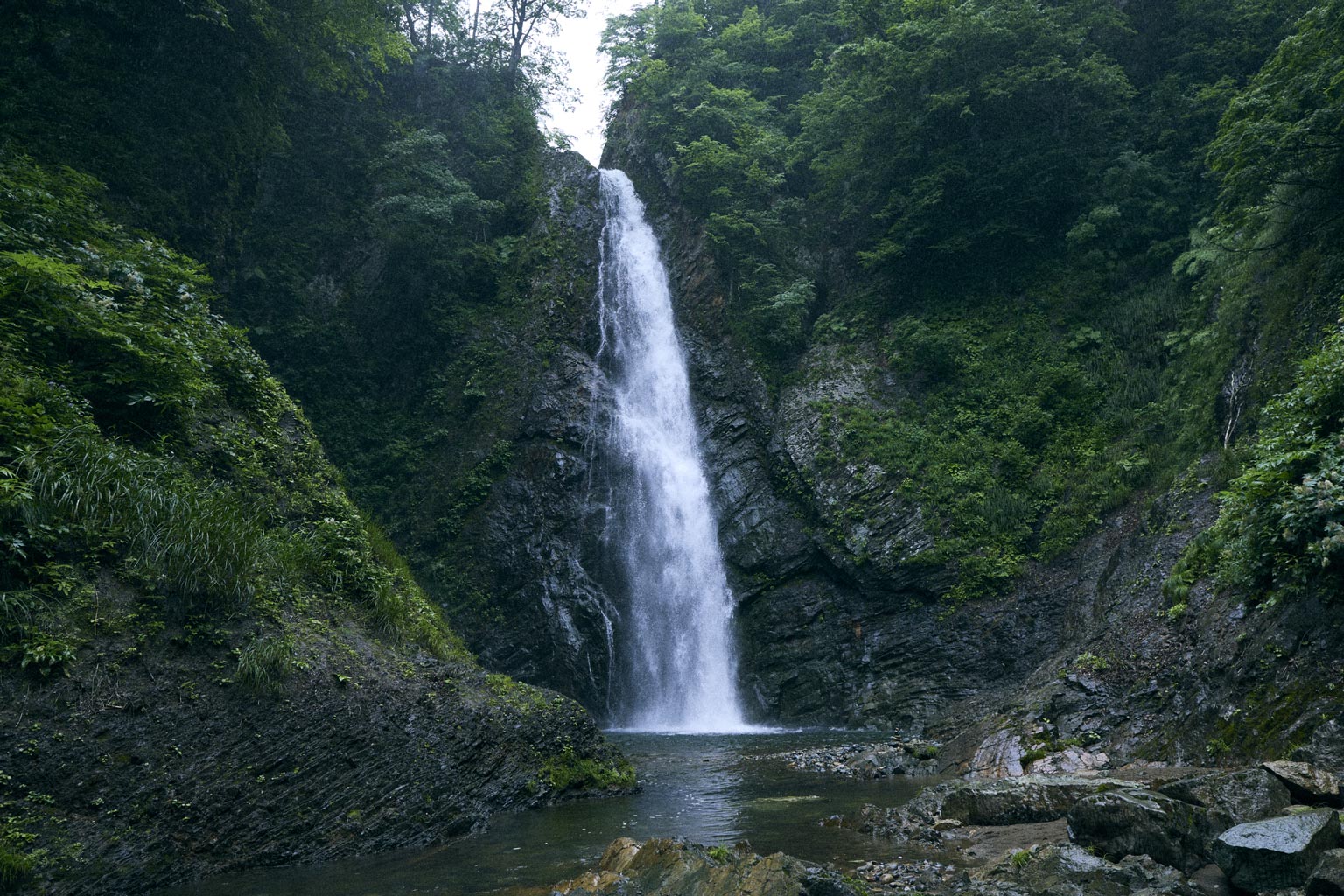 Anmon-no-Taki Waterfall
Seeking to fully experience the dynamic natural beauty of Shirakami-Sanchi, I went on a trek to Anmon-no-Taki Waterfall. Actually consisting of three waterfalls, Anmon-no-Taki Waterfall comes into sight beyond a swift-running river after walking between steep, bare rock walls and long-lived beeches and pines. Its flow crashing down to create great sprays of water was truly a compelling sight, and seemed to me to be a testament to the power of the workings of the Earth.
Information
Location

Kawaratai, Nishimeya Village, Nakatsugaru District, Aomori Prefecture

Access

1 hr by car from Hirosaki Station to Aqua Green Village Anmon, 1-hr walk from Aqua Green Village Anmon to the second waterfall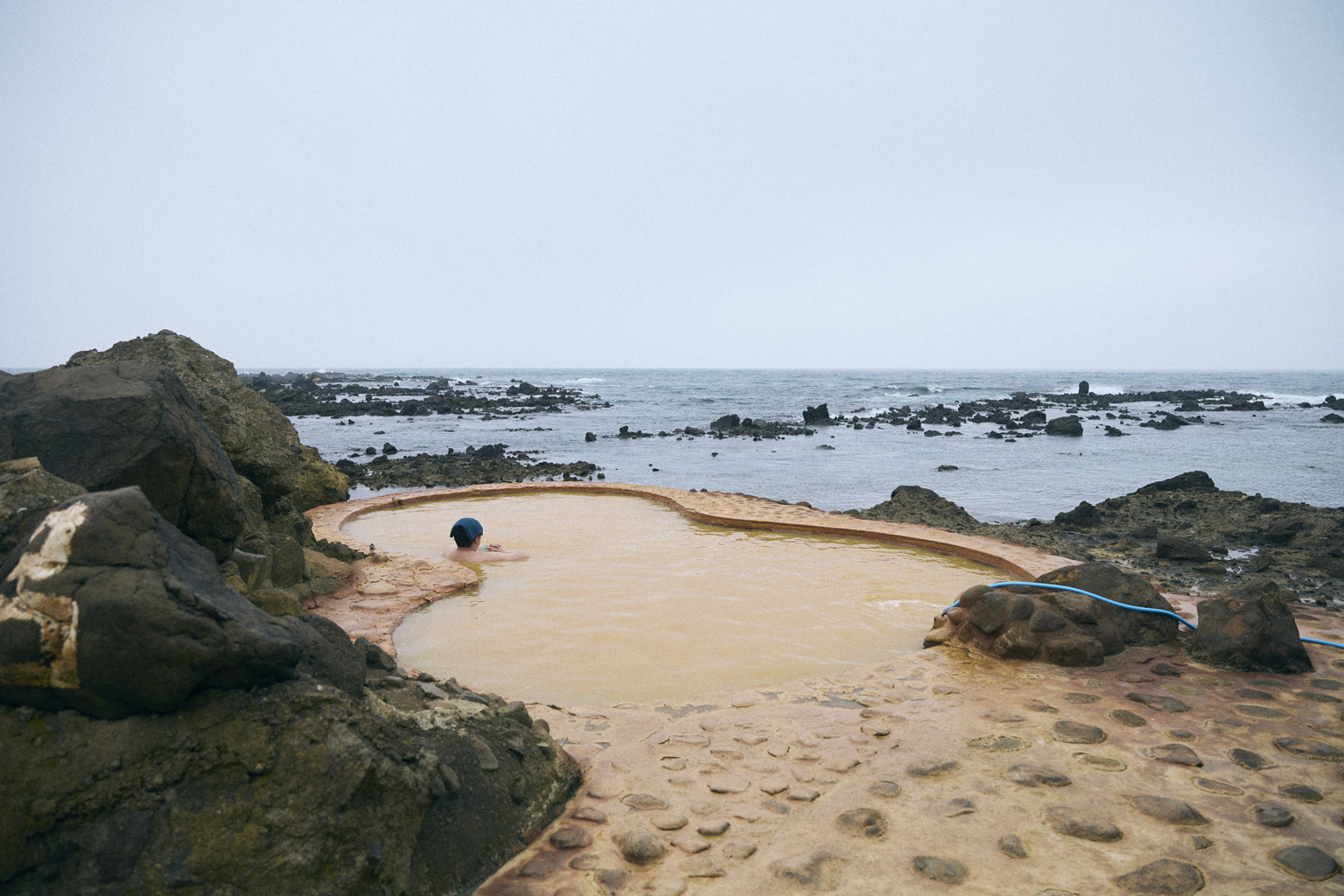 Furofushi Onsen
Whether I get up and get going right from the morning or enjoy a leisurely and relaxing day, when I'm on vacation I like to end the day with a nice hot spring bath. At Furofushi Onsen, located at the foot of Shirakami-Sanchi, the open-air rotenburo bath along the coast is the main attraction. Looking out across the surrounding area, there's nothing to block a view of the Sea of Japan sprawling into the distance. Soaking in its waters, a little on the hot side, while gazing absentmindedly into the distance soothes both body and soul.
Information
Location

15-1 Henashi Shimokiyotaki, Fukaura Town, Nishitsugaru District, Aomori Prefecture

Access

5 min by shuttle bus (reservation required) from Wespa Tsubakiyama Station on the JR Gono Line; 2 hr by car from the Namioka IC on the Tohoku Expressway
Moriyama Coast
The surface of the sea underfoot gleamed when struck by the bright early afternoon sun, rocks of various sizes poking their heads out from below. The great crag in front of me was a tight assemblage of rock strips known as columnar jointing. The opposite shore was filled with stunning rock formations, including the aptly named "Elephant Rock" and a pair of triangular boulders known as the "Twins." The clear blue sea and rugged rocks create a miraculous contrast.
Information
Location

Fukaura Town, Nishitsugaru District, Aomori Prefecture

Access

20-min walk from Juniko Station on the JR Gono Line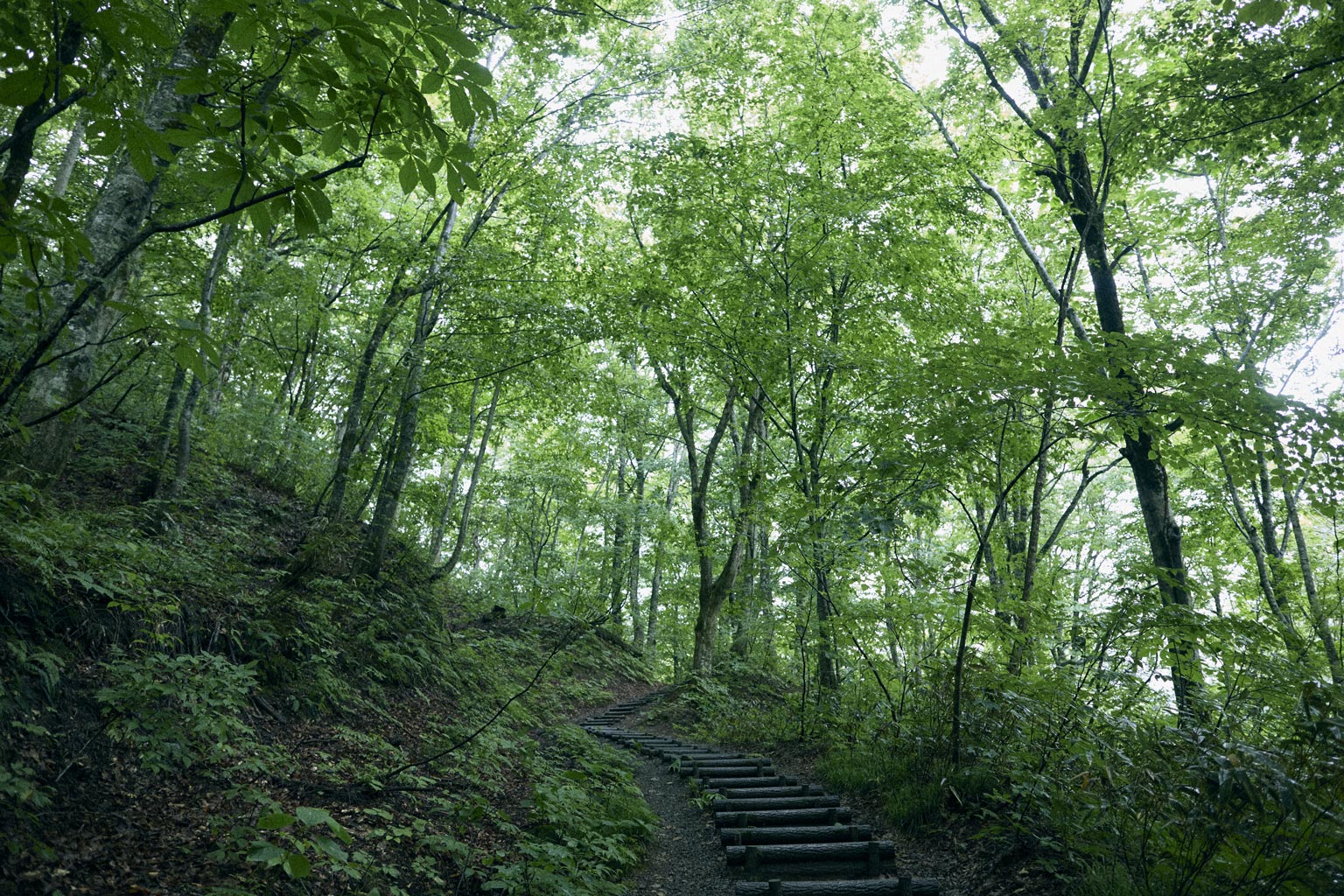 World Heritage beech forest trail
Beech trees allow plenty of light to filter through, and in summer this means the forest remains brightly lit and the voices of insects and birds can be heard until evening. Stepping on the plush mulch formed from countless years of fallen leaves gathering on top of each other, I took in the sight of seasonal flowers and ran my hand through the waters of springs as clear as glass. Walking amid the beach forest of Shirakami, you can experience the many blessings of the trees with all five senses.
Information
Location

Nishimeya Village, Nakatsugaru District, Aomori Prefecture

Access

70 min by car from the Owani-Hirosaki IC on the Tohoku Expressway via Prefectural Route 28; 1 hr by car via Prefectural Route 28 from Hirosaki Station; 90 min by bus via the Konan Bus Shirakami Line from Hirosaki Station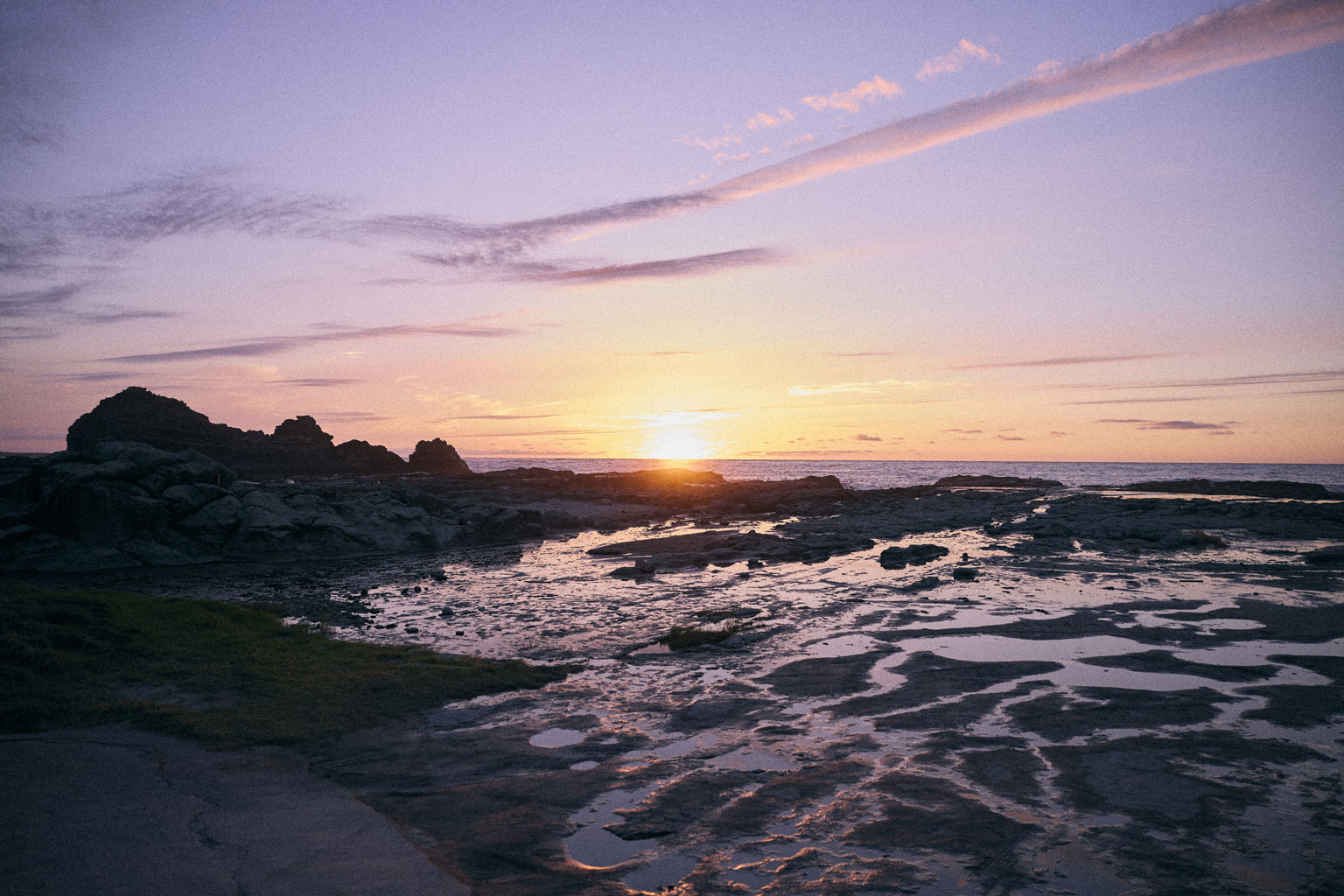 Sunset at the Senjojiki Coast
The terrain among the rocky ledges of the Senjojiki Coast is wholly marvelous. Flat for a time, suddenly there are great boulders. As I continued among the rocks, there would be unexpected great holes among them. It's a place where one can experience the dynamic interweaving of the land. Absorbed in my walk, the sky had become tinged with a beautiful orange color before I noticed. The sunsets to be seen here are filled with passionate, fiery emotion, and it made me wish I could gaze at one for an eternity.
Information
Location

Kitakanegasawa, Fukaura Town, Nishitsugaru District, Aomori Prefecture

Access

1-min walk from Senjojiki Station on the JR Gono Line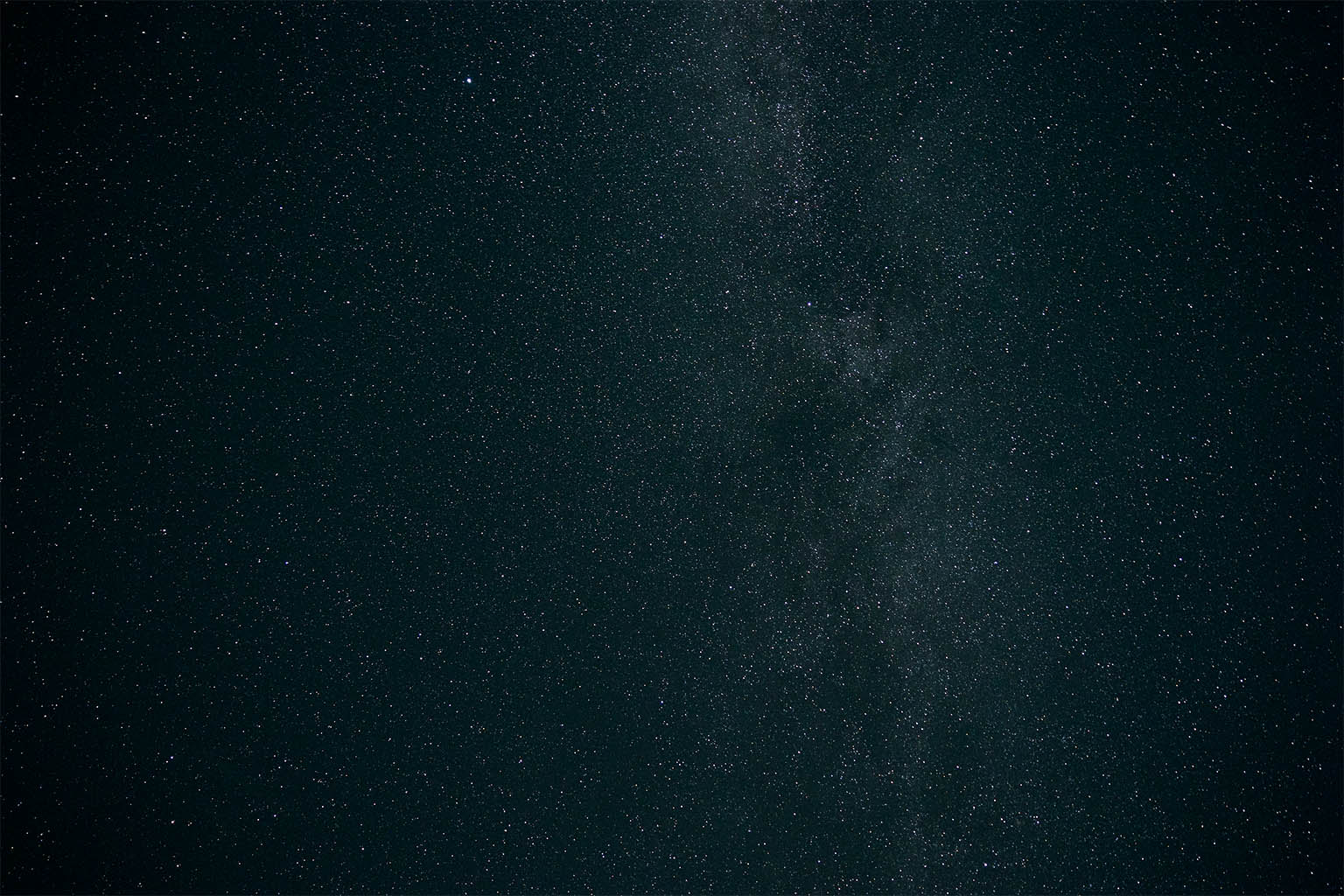 Star-filled sky in Fukaura Town
I was surprised when I happened to glance upward and see that the sky was glittering with stars like gems scattered across black velvet. Fukaura Town has been selected as one of the "best places in Japan for stargazing" by the Environment Agency (now the Ministry of the Environment) .

Photo=Eriko Nemoto
Information
Location

Matsukami Shimohamamatsu 14, Fukaura Town, Nishitsugaru District, Aomori Prefecture (Awone Shirakami Juniko)

Access

30-min walk from Juniko Station on the JR Gono Line; 90 min by car from Odate-Noshiro Airport; 60 min and 50 km by car from the Noshiro-minami IC on the Akita Expressway via National Route 101